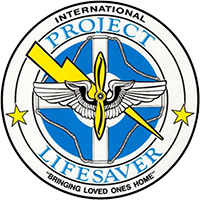 Project Lifesaver is designed to provide a safety net for the most vulnerable citizens in our community. Each client is provided a small electronic bracelet that emits a unique radio signal 24 hours a day.
When a client wanders, a call to 911 by the caregiver triggers a rapid response by a trained team within the Flathead County Sheriff's Office and local volunteer search and rescue teams. Using a mobile locator system, search crews are able to monitor the transmitter signal and locate the client.
Project Lifesaver International has provided in-depth training for Flathead County Deputies and other public safety agencies on the use of specialized electronic search and rescue equipment, technology and procedures, as well as teaching rescuers how to communicate with people afflicted with cognitive conditions, all of which are essential to the successful rescue of missing persons who wander or otherwise become lost.
For more information on participating in this program contact:
Sgt. Caleb Pleasants at cpleasants@flathead.mt.gov or 406.758.5602