The Northwest Montana Drug Task Force's mission is to target, disrupt, and dismantle drug trafficking organizations and pursue street level interdiction through the cooperative effort of Local, State, and Federal Agencies.
There are multiple resources available to the public. These resources provide valuable information about the dangers of drugs. If you or someone you know is in need of help, please refer to the links below.
MONTANA METH ADS & COMMERCIALS
Prescription Medication / Drug Collection & Disposal Site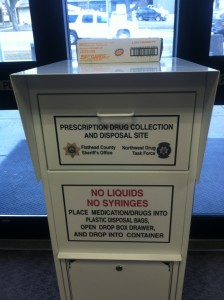 The Flathead County Sheriff's Office has installed a secure container for the collection and disposal of waste or unwanted prescription medicines from County residents in the ground floor lobby of the Flathead County Justice Center at 920 South Main Street in Kalispell.
The new large, white, mailbox-style drop box has a self-service door-slot opening for easy drop-off. Just follow the simple directions that have been posted on the box:
NO LIQUIDS. NO SYRINGES
Place medication/drugs into plastic disposal bag(s), open drop box drawer, and drop into container. Bags are provided.
This free service is available to County residents who can simply enter the Justice Center lobby, access the container without any need for assistance, and drop off unwanted pharmaceutical products. It is a great new service that is easy to use, available 24 hours a day, and in a secure setting.
If you suspect or want to report drug activity please click the link below.